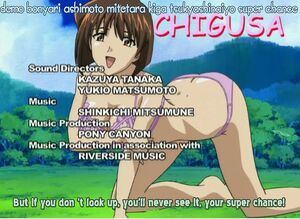 Chigusa is the nurse at the all-girls boarding school. She came along on the trip as the girls' supervisor. The Baka Trio, especially Bacchi-Gū, are enamored by Chigusa's beauty and her E-cup breasts. Although she should be keeping the girls in order, Chigusa is very easy-going and actually encourages the girls to flirt with the boys.
Ad blocker interference detected!
Wikia is a free-to-use site that makes money from advertising. We have a modified experience for viewers using ad blockers

Wikia is not accessible if you've made further modifications. Remove the custom ad blocker rule(s) and the page will load as expected.