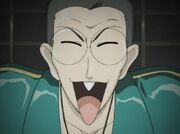 The vampire is seen trying to lead swimming lessons at some point. He complaints to Chigusa she is distracting the women with her attracting ass.
Later in episode 9 he is waiting at the satanic shrine for those who seek their evil vampiric powers. Futaba refers to him as Vampire-Creep-Faggot sensei (or Mr. Todoroki) revealing his true nature.
Ad blocker interference detected!
Wikia is a free-to-use site that makes money from advertising. We have a modified experience for viewers using ad blockers

Wikia is not accessible if you've made further modifications. Remove the custom ad blocker rule(s) and the page will load as expected.